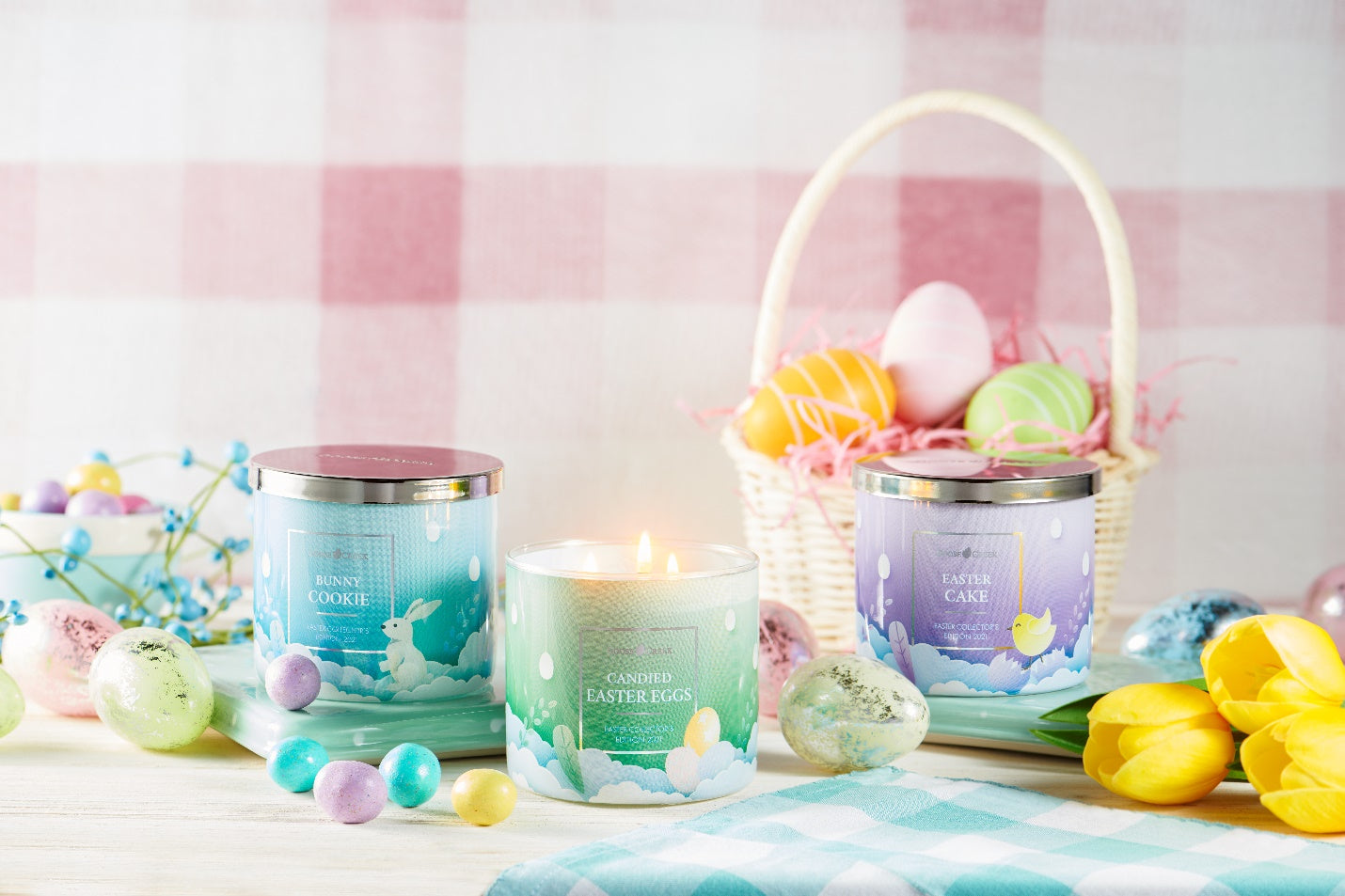 Homemade Easter Basket Ideas for Adults
Easter Gift & Basket Ideas with Candles
Easter happens at one of the most beautiful times of the year, when the flowers are beginning to bloom and the weather is turning warmer. It's a time for family and friends to come together and celebrate.
Most Easter celebrations are planned with children in mind, whether it's an egg hunt or distributing baskets of candy and toys. But shouldn't adults experience the joy of renewal and springtime too?
Here are three homemade Easter basket ideas for adults that will help you assemble festive baskets that your adult friends and family will love.
Self-Care Easter Basket
It can be challenging to make enough time for self-care in today's fast-paced world. However, a handful of indulgent Easter basket stuffers will encourage even the most hard-working people to take a deep breath and slow down to enjoy the season.
Consider including bath and skincare products such as lotions, bath bombs and face masks in your self-care basket. Our scented, vegan body care products come in various forms, from luscious body lotions to skin-nourishing shower gels. There is a plethora of products and scents designed to pamper.
Stress-relieving aromatherapy candles are another decadent addition to any Easter basket for adults. The right scent can help release tension and calm the mind.
Teacher Easter Basket
What better way to say thank you to the dedicated teachers in your life than with an Easter basket of goodies?
Gift cards can be an excellent way to thank a teacher, especially if you don't know exactly what to get them. Gifting them the option to treat themselves to precisely what they want is always a safe bet.
Hand sanitizer is an indispensable product for any classroom. Scented hand sanitizer can elevate this health-conscious routine to a whole new level, and including an interesting new hand sanitizer as an Easter basket filler is sure to delight. Our gel hand sanitizers with aloe come in a range of fun and fruity scents that are perfect for the classroom.
Date Night Easter Basket
After the relentless holiday rush to prepare for Easter, it's time to relax and enjoy some grown-up time. So why not gift your significant other a date night kit to relax after the celebrations are over?
Perfect date night Easter basket fillers could include a bottle of wine, a box of chocolate truffles and perhaps a movie to enjoy together. If you're a couple that enjoys board games, a new two-person card game might be the perfect way to spend a relaxing evening in each other's company.
But don't forget about the date night ambiance. Add a sweet or floral scented candle to kick the cozy factor up a notch, or consider one of our candles for men for a ruggedly good scent.
Easter Baskets for Everyone
Homemade Easter baskets are sure to delight all the adults in your life. Whether you're encouraging them to slow down and practice self-care or make time for a much-needed date night, these basket ideas are the perfect way to celebrate spring.
Goose Creek would love to be a part of your Easter celebrations. Our American-made, highly scented candles burn clean and evenly, leaving your home smelling just the way you want it to.