This store requires javascript to be enabled for some features to work correctly.


"I can't explain it. The fragrances are so accurate and authentic. We love how it fills our large living room and lingers into our bedroom. I've been burning candles for over 20 years and these are the best quality candles we have tried." - Sheryl
"I can't explain it. The fragrances are so accurate and authentic. We love how it fills our large living room and lingers into our bedroom. I've been burning candles for over 20 years and these are the best quality candles we have tried." - Sheryl
"I can't explain it. The fragrances are so accurate and authentic. We love how it fills our large living room and lingers into our bedroom. I've been burning candles for over 20 years and these are the best quality candles we have tried." - Sheryl
"I can't explain it. The fragrances are so accurate and authentic. We love how it fills our large living room and lingers into our bedroom. I've been burning candles for over 20 years and these are the best quality candles we have tried." - Sheryl
"I can't explain it. The fragrances are so accurate and authentic. We love how it fills our large living room and lingers into our bedroom. I've been burning candles for over 20 years and these are the best quality candles we have tried." - Sheryl
"I can't explain it. The fragrances are so accurate and authentic. We love how it fills our large living room and lingers into our bedroom. I've been burning candles for over 20 years and these are the best quality candles we have tried." - Sheryl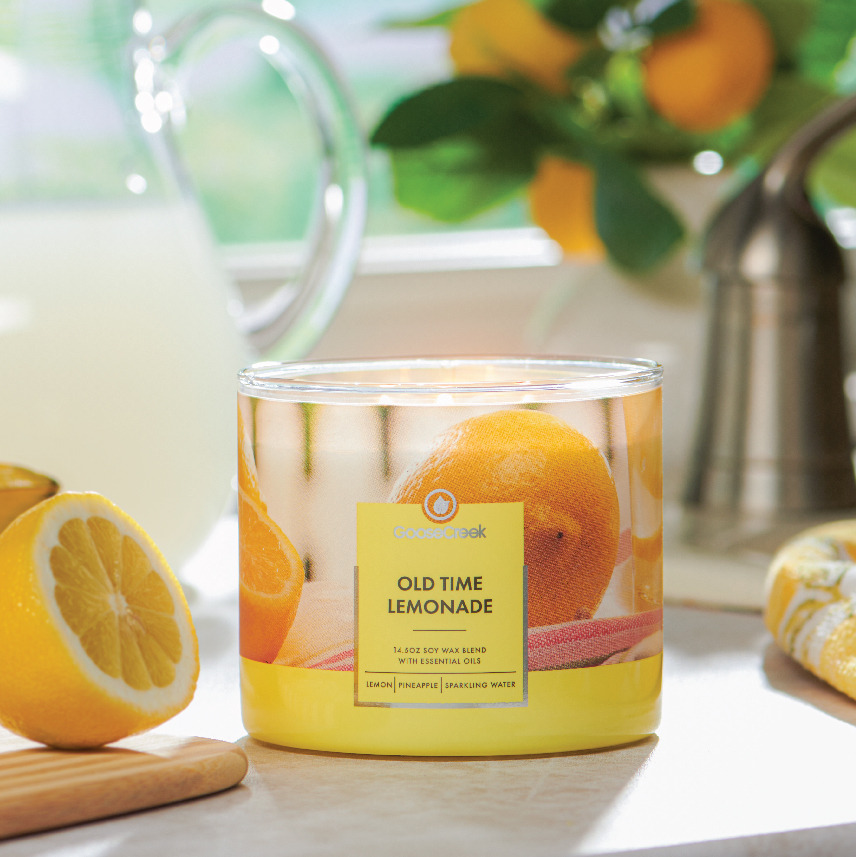 Goose Creek 3-Wick candles are made of a soy wax blend and have 3x the fragrance than traditional candles. Each candle quickly fills any room with fragrance, small or large.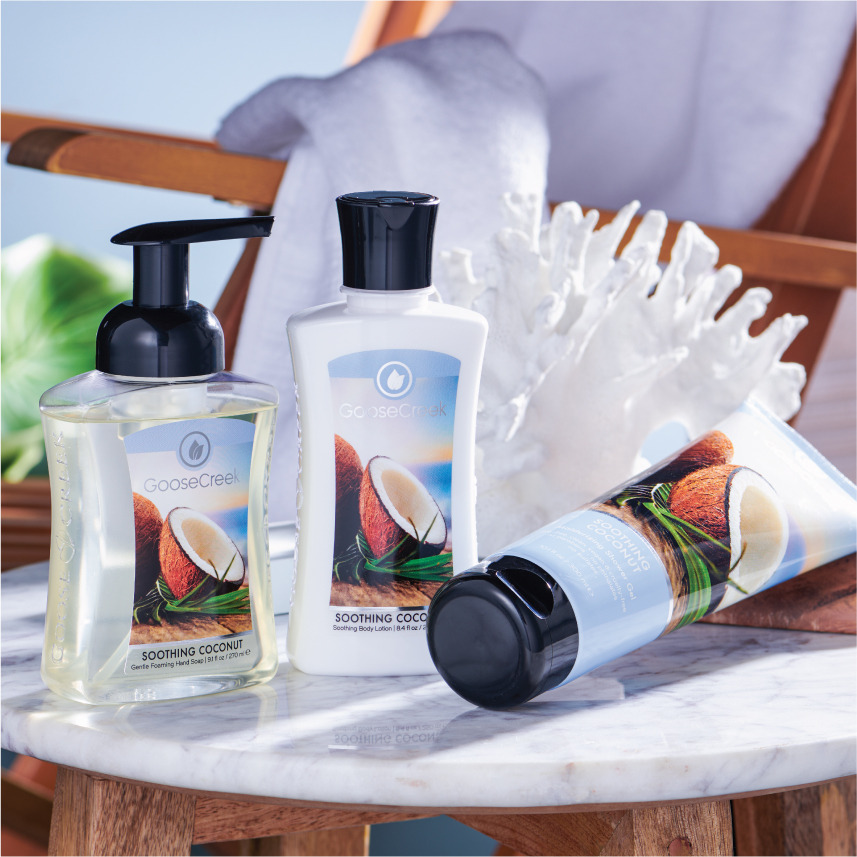 Goose Creek body care products are clean, cruelty-free, vegan, non-GMO & dermatologist tested. Avoid the harmful chemicals found in other body care products.
Welcome to the Goose Creek Candle Company! Keep your home smelling fresh day and night with these candles and other scented products from Goose Creek. Our selection makes it easy to customize the impression your space imparts. With options that range from classic jar candles and tea lights to room sprays and scented plug-ins, you'll always be able to find something that's just right for you. Browse through our scented candles and fragrance products to discover a wide variety of scents, sizes and styles to enjoy.
---
Fragrances You'll Fall For
Goose Creek is not like any other candle company. When it comes to scents that smell natural, candles from Goose Creek beat the competition time and time again. We design and create our own fragrance formulas for each product, ensuring that you get the most authentic aroma from our highly scented candles and air fresheners. Our products include a wide range of popular aromas, including floral, fruity and nature-inspired fragrances. We go beyond the classic scents to deliver complex and unique blends with top, middle and base fragrance notes that fill your room quickly and effectively. Gourmand, a newer fragrance category, is a scent that's sweet and edible. It is well represented here with a variety of candles and other fragrance products that feature mouth-watering scents inspired by home-cooked baked goods fresh from the oven.
Aromas for Every Season
In addition to our fragrances inspired by the wonders of nature, we also offer seasonal scents that celebrate time-honored traditions. These luscious aromas invoke such memorable occasions as delicious seasonal treats, enjoyable family vacations to the seashore and favorite holidays.
Safe for Families
When you buy any product from the Goose Creek candle company, you'll get a safe, clean product for your home with ingredients that far exceed comparable brands. We never include harmful substances or banned chemicals in our products. All our fragrances are approved by the IFRA, and our cotton wicks are completely lead-free. Our candles are long lasting and burn clean right down to the last bit of wax with no waste. You'll never have to deal with smoky air or black residue left on your walls and ceilings. Choose Goose Creek candles and room refreshers to get high-quality, American-made home fragrance products from a family-owned company.