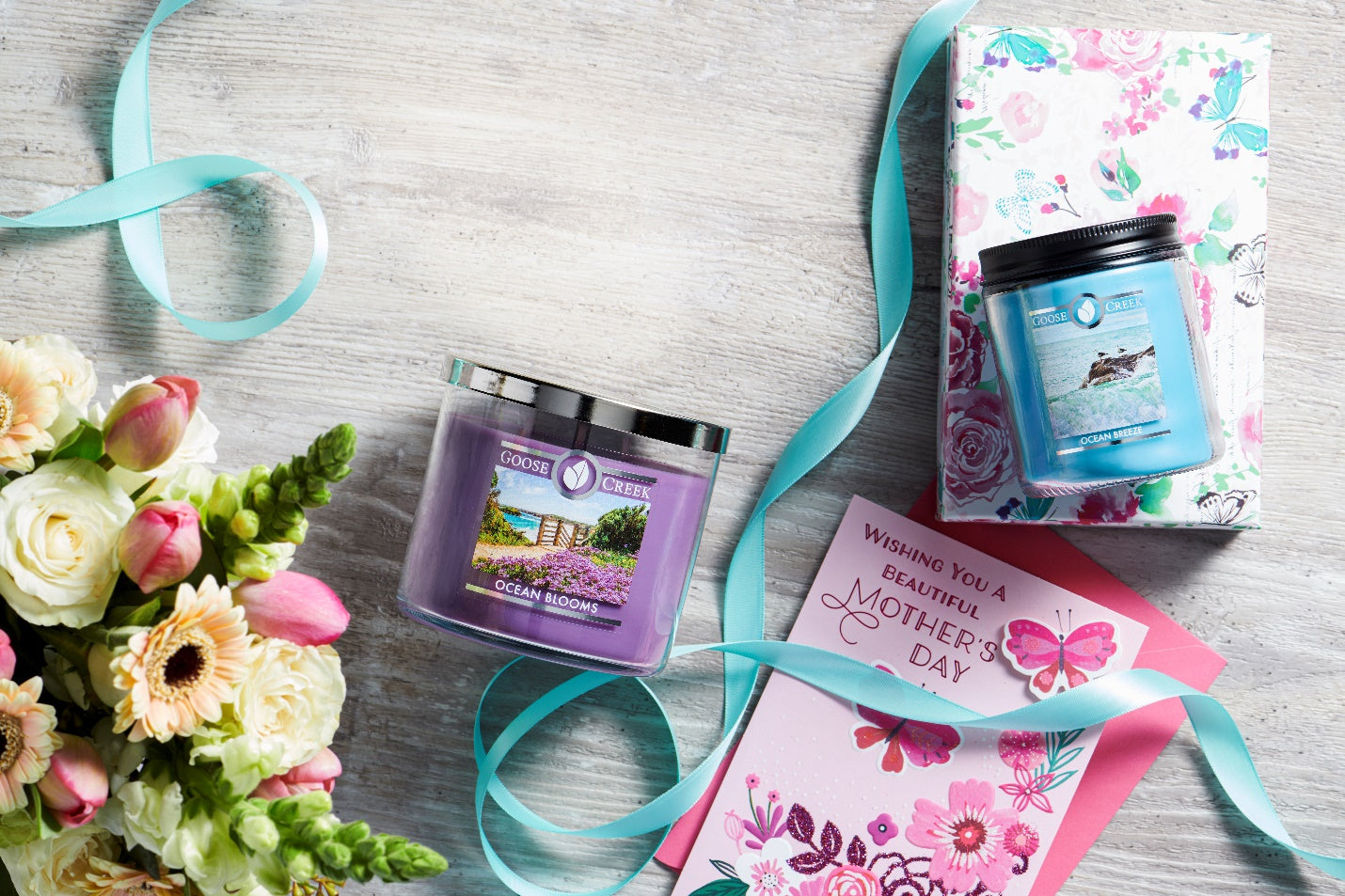 Mother's Day Candle Gift Guide
Choose the Perfect Candles for Mother's Day
A good Mother's Day gift will make your mom feel appreciated and loved, but the best Mother's Day gifts will make her feel loved every time she uses them. That's why one of our unique, premium candles makes the perfect Mother's Day present.
Every time mom lights her new favorite candle this spring, she'll remember how loved she is. So from the sweet scents of faraway places to a relaxing aromatherapy getaway, make this Mother's Day one to remember with the perfect Goose Creek candle.
Take a Scent Vacation
Invoke the perfect scent with an olfactory getaway. Let our World Traveler Collection transport your mom with one of our exclusive scents designed to kindle wanderlust and evoke imagery of far-off lands.
How about a trip to the Netherlands, where the scent of waffles and caramel will make your mom feel like she's nibbling a stroopwafel in a field of tulips?
Send mom on a Highland getaway in Scotland, where the scent of shortbread will have her dreaming of standing stones and plaid. Or perhaps a fruit cake from sunny Jamaica is more her speed?
Choose from our extensive range of location-inspired scents for this year's Mother's Day present to surprise and delight.
Relax at the Farmhouse
The sophisticated minimalism of our Farmhouse Collection will go with any interior decorating theme. Choose a meaningful message for mom to display or shop for her favorite scent profile.
Our Love candle is cozy and sweet, infused with the scent of brown sugar toast and soft cream. For a fresh scent, our Thankful candle will make the whole house smell like soft cotton and a fresh spring breeze.
Whichever sentiment you choose, you're sure to find the perfect candles for Mother's Day to make mom feel like one of a kind.
Trip to the Spa
There's no one more deserving of a trip to the spa than moms. That's why our aromatherapy candles make the perfect Mother's Day candle gifts.
Help her transform the house into a relaxing sanctuary with one of our three-wick candles, designed with all-natural essential oils. There's no need to stress when burning a Goose Creek candle. All of our candles are made with non-toxic ingredients and cotton wicks, giving you all the aromatherapy benefits and none of the worry.
For a mind-clearing boost, try Eucalyptus Garland. With this candle, the blended scents of eucalyptus, cool air, woods and mint will deliver 35 hours of aromatherapy designed to be mood-boosting and energizing.
Our Lavender Sugar Aromatherapy candle is perfect for unwinding after a hectic day. Designed with relaxation in mind, the smells of soothing lavender and pastry sugar are sure to delight.
Stroll Down Memory Lane
Bring back the memories of delicious, beloved children's breakfast cereals with our line of cereal-scented candles. Our Marshmallow Happiness candle will make your mom smile. The lucky blend of fluffy marshmallows, sugared berries and nostalgia is sure to bring back fond memories.
Consider the deliciously decadent Crazy Choco Circles for chocolate-loving moms. The aromas of milk chocolate, dark chocolate and vanilla will make everyone in the house crave some delicious cocoa volcano cereal.
With Mother's Day just around the corner, we hope you find the perfect Mother's Day gift in the form of a Goose Creek candle. What better way to say thank you to the moms in your life than with the room-filling scent of an American-made candle?