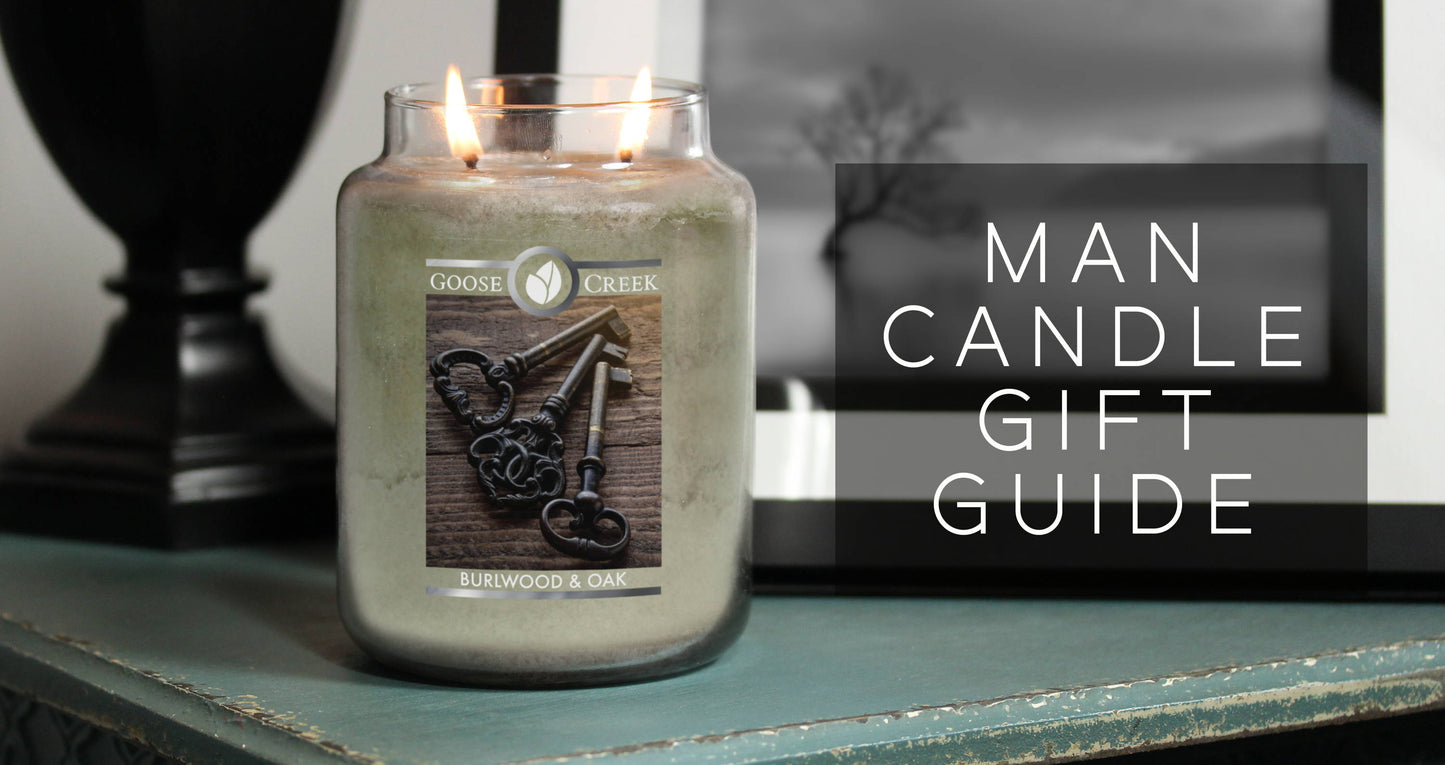 Man Candle Gift Guide: 12 Best Candle Scents for Men
The great thing about scented candles is that they can appeal to a lot of different people-including men. And why not? Everyone enjoys being around things that smell good, and men shouldn't be excluded from burning candles that make them feel uplifted.
That's why Goose Creek has come up with our own line of the best candles for men. If you're looking for a "man candle" as a gift for a boyfriend, husband, brother, father or another man in your life, use this guide for choosing masculine candles. Whether you need Christmas gifts for men, Father's Day gifts or gifts for another occasion, our selection of men's scented candles, as well as wax melts, room sprays and more, has everything you need.
He Enjoys His Home Life
If the man in your life is a person who can't wait to get home so he can kick back and relax in his favorite recliner, there are certain men's candles that will help him achieve ultimate bliss. Home is where his heart is, and candles with cozy home themes will make him feel… well, right at home.
Applewood - Yes, there are masculine candles that smell like freshly baked pie, and this is one of them. This candle is just like the real thing. It features a unique blend of crisp woods and sunlit apples that will remind you of every slice of delicious apple pie you've ever enjoyed.
Button-Up - Get warm and cozy with a scent that envelops you like a soft flannel jacket. Enjoy top notes of fresh ozone, Meyer lemon and dark amber, with mid notes of clary sage, black peppercorn and jasmine and base notes of velvet sandalwood and forest musk.
Warm & Welcome - Grab a cozy blanket and start a new season of a show with your favorite guy while indulging in a fragrance that combines warm vanilla sandalwood, orchid and creamy woods.
He's Adventurous and Fun-Loving
If the guy in your life is a man who's always on the go, has big dreams or enjoys fun-filled excursions where he can explore new places, you'll want men's scented candles that embody his adventurous spirit.
California Coast - Crisp and fresh, this candle fragrance smells like an early morning spent surfing the waves of the Pacific Ocean. It combines the bright scents of citrus, cool waters, sea breeze and beach woods.
Forest - Every time he burns this candle, he may think about nature as it comes to life with this blend of forest scents including summer leaves, dark wood, clove and cedarwood.
Oud - This is another scent that was inspired by the woods, and the top notes of bergamot and soft eucalyptus combine with amber, cypress and incense over a base of oud, cedar, patchouli and sandalwood to create a relaxing atmosphere that soothes body and mind.
Tobacco - When it comes to candle scents guys like, there's something about the scent of tobacco leaves that is memorable and inviting. Mix that with vanilla, cedarwood and patchouli, and you've got a man's scented candle that can't be beat.
He's a Laid-Back, Cool Dude
If your man likes to take life in stride, has an easy-going manner that puts you at ease or enjoys the small pleasures, we have cool candles for him that feature a natural, authentic vibe.
Leather - Nothing says "laid back without a care in the world" like a leather jacket. This candle embraces that classically masculine scent and fills any space with the distinctive smell of leather.
Guilty - For guys who are a little mysterious and who just might be up to no good (and feel bad about it), this candle combines the scents of leather and bergamot with jasmine petals, fresh cotton and violet over a base of cedar, sandalwood and amber to create a profile that is intoxicating and intriguing.
Driftwood - Imagine aged wood washing up on a remote, white-sand beach. This fragrance captures that image with scents of driftwood, teakwood, sandalwood and cedar.
Burlwood & Oak - The combination of rosemary, orange and lemon mixed with lavender and light rose over a base of oak, cashmere woods, sandalwood and oak moss will create an environment that is just like your man: unforgettable yet comfortable.
The Best Candles for Men
When it comes to finding the best scented candles and other scented products for men, you need a selection that captures the spirit and essence of the guy in your life. At Goose Creek, we have a variety of options that will fit all styles and personalities. Shop our scents today!