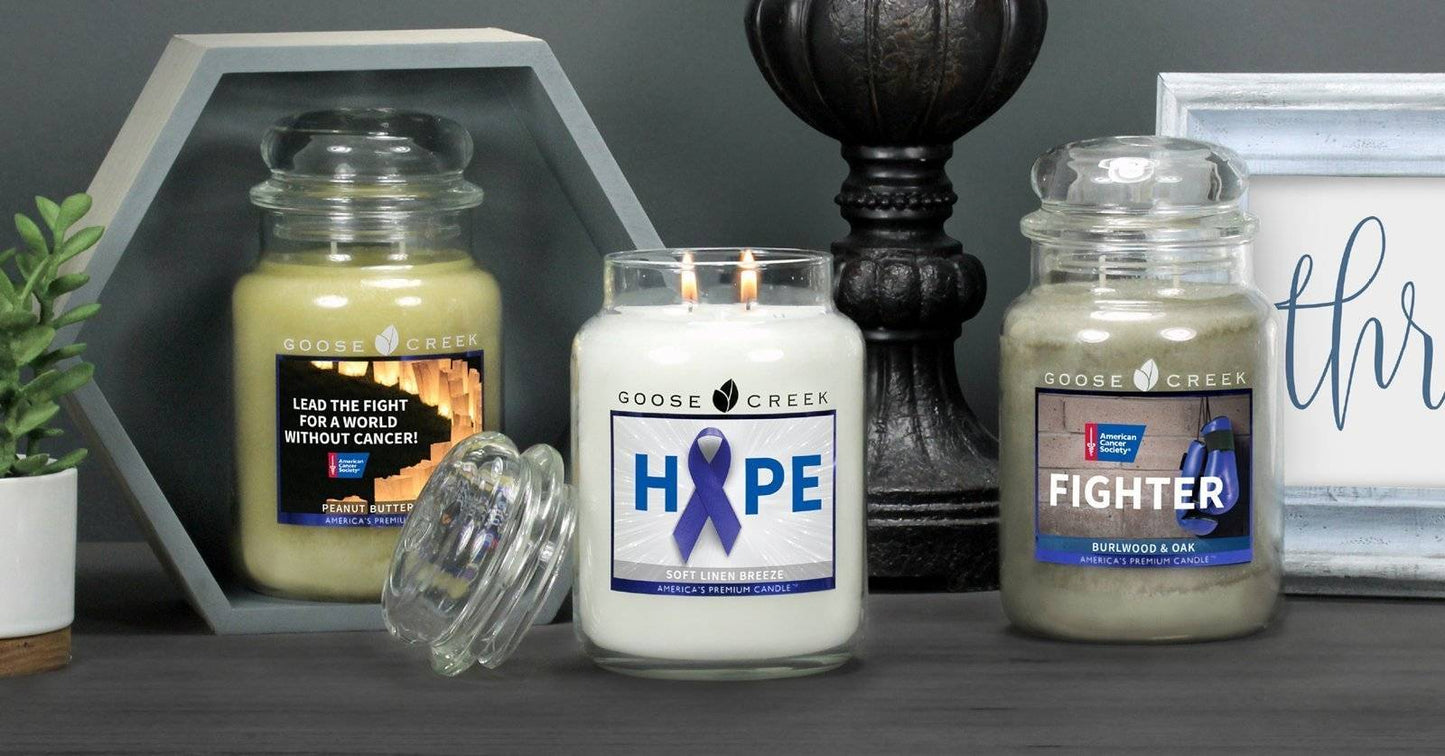 News: Goose Creek Candle partners with the American Cancer Society
Kentucky-based candle company joins the fight against cancer Goose Creek Cares campaign will donate at least $50,000 to American Cancer Society

LOUISVILLE, Ky. (March 1, 2018) - Goose Creek Candle Company, a Liberty, Ky.-based home fragrance company, has partnered with the American Cancer Society (ACS) in the fight against cancer. From March 1-31, Goose Creek will give $8 from each online sale of a specially designed line of candles to ACS as part of its Goose Creek Cares campaign.Goose Creek has pledged a minimum donation of $50,000, and $8 for every candle sold beyond that amount. A series of 12 popular Goose Creek fragrances such as Butter Cookie, Cinnamon Spice, Old Time Lemonade and Soft Linen Breeze will feature limited-edition designs with messages of courage and hope. These 24-ounce glass jar double wick candles retail for $24.99 each (or $20 each when you buy 5 or more) and will be available March 1-31 with free shipping at .
Goose Creek is owned and operated by the Liberty-based Meece family: Chuck Meece, founder and owner; his wife, Tamara Meece, executive vice president; and their children, sons Micah and Jordan, who are both brand executives; and daughter Madison, the social media assistant. The Meeces are longtime supporters of the ACS Relay For Life of Casey County. The family has dedicated the Goose Creek Cares campaign to the memory of Billie Ruth Wilson, who died of cancer in 2013, and was such a dear friend, the Meeces consider her family.
"Until you are close to someone who has battled cancer, you really don't know what people affected by it really go through," said Tamara Meece. With that perspective gained, the Meeces wanted to do more in the fight against cancer and saw the company as means to help spread the word. "We want to use this business as tool to raise awareness and funds to help mitigate what people are going through."
Funds raised by the Goose Creek Cares campaign will go toward ACS-funded research, support programs like Hope Lodge Lexington, and early detection and prevention programs.
"I know there will be a cure," said Tamara Meece of Goose Creek Cares campaign. "We just want the money raised to truly help. It's an honor for us to just be a little piece of that big puzzle. Because when all the pieces come together, that's a beautiful picture."
About Goose Creek Candle Company: Goose Creek, a family-owned company, was founded in the small Kentucky town of Liberty in 1998. Goose Creek has grown into mass production facilities across the US and relies heavily on many hard-working Americans to meet the demand in more than 60 countries worldwide. At Goose Creek, quality still comes first, as each candle is made to surpass the highest industry standards. Available at thousands of independent retailers, national chain stores, and our online store, Goose Creek is proud to be America's best candle.
https://goosecreekcandle.com
.
About ACS: The American Cancer Society (ACS) is a global grassroots force of volunteers dedicated to saving lives, celebrating lives, and leading the fight for a world without cancer. From breakthrough research, to free lodging near treatment, a 24/7/365 live helpline, free rides to treatment, and convening powerful activists to create awareness and impact, the Society is the only organization attacking cancer from every angle.
www.cancer.org
.