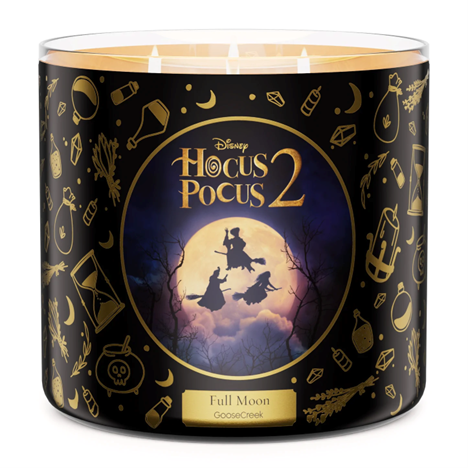 Celebrate Halloween with Our Hocus Pocus 2 Candle Collection
Celebrate the release of Disney's Hocus Pocus 2, the long-awaited sequel to the 1993 Halloween favorite Hocus Pocus, with the Hocus Pocus 2 Candle Collection. This exclusive Goose Creek candle collection is perfect for Halloween or anytime you want to join in on the magic and mayhem of the Sanderson sisters!
Make Your Halloween Scent-Sational
Our collection includes eight new Hocus Pocus 2 candles. For each candle, we took our fragrance inspiration from the sisters themselves, and based the delectable scent combinations on Halloween potions and treats. Whether you're lighting these candles at your Halloween party or just using them for your own private movie-watching party, you'll love how each three-wick, premium soy candle fills the room with fragrance that sticks around for a long time.
If you're looking for a scented candle that is fun and lively or you want something that captures the mystique of the Halloween season, we have exactly what you're looking for in our Hocus Pocus 2 collection. Some of the candle options you can choose from include:
Full Moon
Our Full Moon scented candle offers a warm, sweet scent that will make you think of fall and the essence of Halloween. It combines the smell of warm waffles with pumpkin cream, butter and vanilla, making this candle perfect for those chilly fall mornings, or even a cold fall afternoon.
Come, We Fly
If you're looking for a bright, fizzy scent, then you'll want to check out what Come, We Fly has to offer. This one was inspired by the idea of a magical potion. It incorporates the scents of fizzing potion with frozen lime, grapefruit and sugar. You'll feel enlivened and refreshed when you burn this candle, and it's a great addition to your gathering of witches and ghouls!
Broom Squad
Gather your squad together and get ready for a good time. Our Broom Squad candle mixes the scent of campfire marshmallows with sugared cream and cool woods to conjure up the spirit of fall and Halloween. You can indulge in fun fall activities while staying warm inside, and this sweet scented candle is great for cozy gatherings of friends or a kids' Halloween party.
Hallows' Eve
If you're looking for something a bit more traditional, then you'll want to check out this Hallows' Eve candle. Originally, All Hallows' Eve was celebrated as a harvest festival, and the scent of warm graham cracker mixed with milk chocolate, vanilla and apple will make you think of fun gatherings with family and friends that celebrate the fall harvest season. You'll stir up happy memories when you burn this candle in the evening as you relax and unwind after a fun-filled day!
Bewitching Halloween Candles for Fall Festivities
No matter which Hocus Pocus 2 candle you choose, you can be assured that it will conjure up fond memories from Halloweens past, and create some new ones in the present. At Goose Creek, we're thrilled to be part of your fall celebrations.