This store requires javascript to be enabled for some features to work correctly.
Get free shipping on orders above $100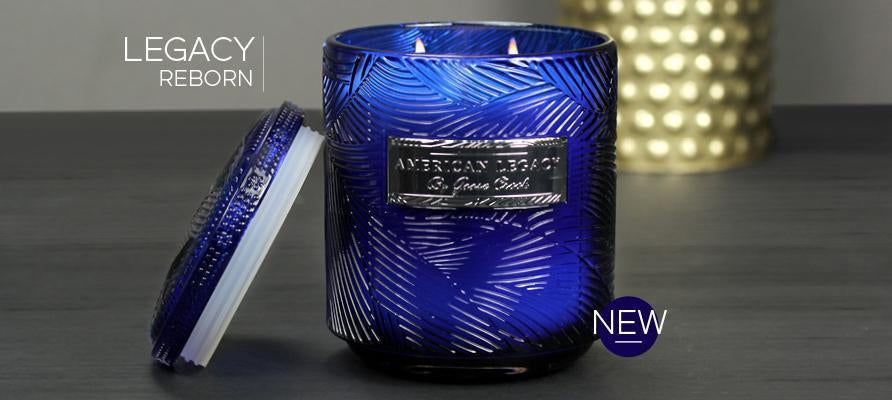 Sorry, there are no products matching your search
If you're looking for luxury candles that are still within your budget, be sure to browse through this collection of American Legacy candles at Goose Creek. These beautiful candles feature some of our richest and most complex aromas. The textured container has a whimsical design and features a vibrant, lush color to match the fragrance. These fancy candles make for the perfect gift for any birthday, holiday or other special occasion. In addition, they add a gorgeous decorative accent to your own home. Shop this collection of luxury candles at Goose Creek to find unique and inviting aromas to fill any space.

Upscale & Uplifting
Our American Legacy candle collection at Goose Creek was designed to offer a premium option for our candle-loving customers. In addition to the unique textured jar and lid, these candles feature exclusive scents that we've developed in-house. Each fragrance formula is carefully crafted to include subtle notes for a more authentic and complex sensory experience. When you light one of our American Legacy candles, you'll be able detect the potent, pleasant aroma quickly as it fills the entire room with an uplifting and inviting atmosphere. Each of these large candles burns for 70 to 90 hours through a single lead-free cotton wick.

Keep Your Home Clean
Other candles are often made with harmful ingredients or chemicals that are released into the air as the candle burns. But with all Goose Creek candles, including our American Legacy products, only safe, clean ingredients are used. No black residue is left on the walls or ceilings, and all our fragrances are IFRA-approved. We make our candles in the U.S. using only ingredients you can trust to keep you and your loved ones safe. Pick from this exclusive collection of Goose Creek American Legacy candles to enjoy powerful and pleasing aromas without any negative side effects.