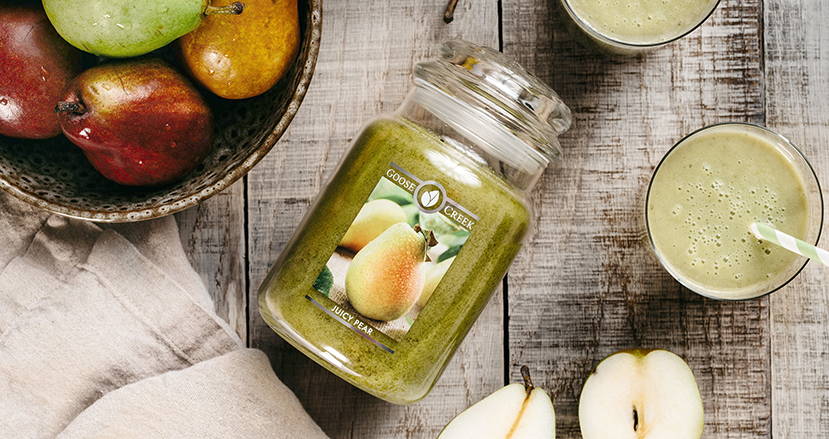 What to expect from our Juicy Pear candle
A lot can be said about a bright, juicy pear. Perhaps our favorite thing to say is how wonderful they smell. Not only are pears one of the world's most famous fruits, but they are a favorite fruity food to many. We were surprised to learn that there are over 3,000 varieties of pears grown around the world. In the US, the Bartlett pear is most popular. delicious pears Although you cannot eat our Juicy Pear Candle, it greatly exemplifies the most wonderful qualities of this delicious fruit.

When developing this fragrance, we couldn't escape the home-grown farmland essence of a true juicy pear. It was important for us to give the fragrance a deep earthy allure rather than a candied, sugary scent. Fragrance notes that we included are pear, apple, cranberry, soft vanilla and light musk. A unique variety of aromas were required to arrive at the most realistic pear candle we have ever smelled. Our official fragrance description reads, "Farmland apple and poached pears are infused with all-spice, tart cranberries, vanilla extract, and sweet musk in this enticing sweet, fruity indulgence".
The Juicy Pear Candle is a great fragrance to kick off the summer season. Whether you have a habit of frequently eating pears or not, we are confident you will enjoy this fruity treat in candle form.
Get your
Juicy Pear Candle
See our other
Candles
source: healthy diaries