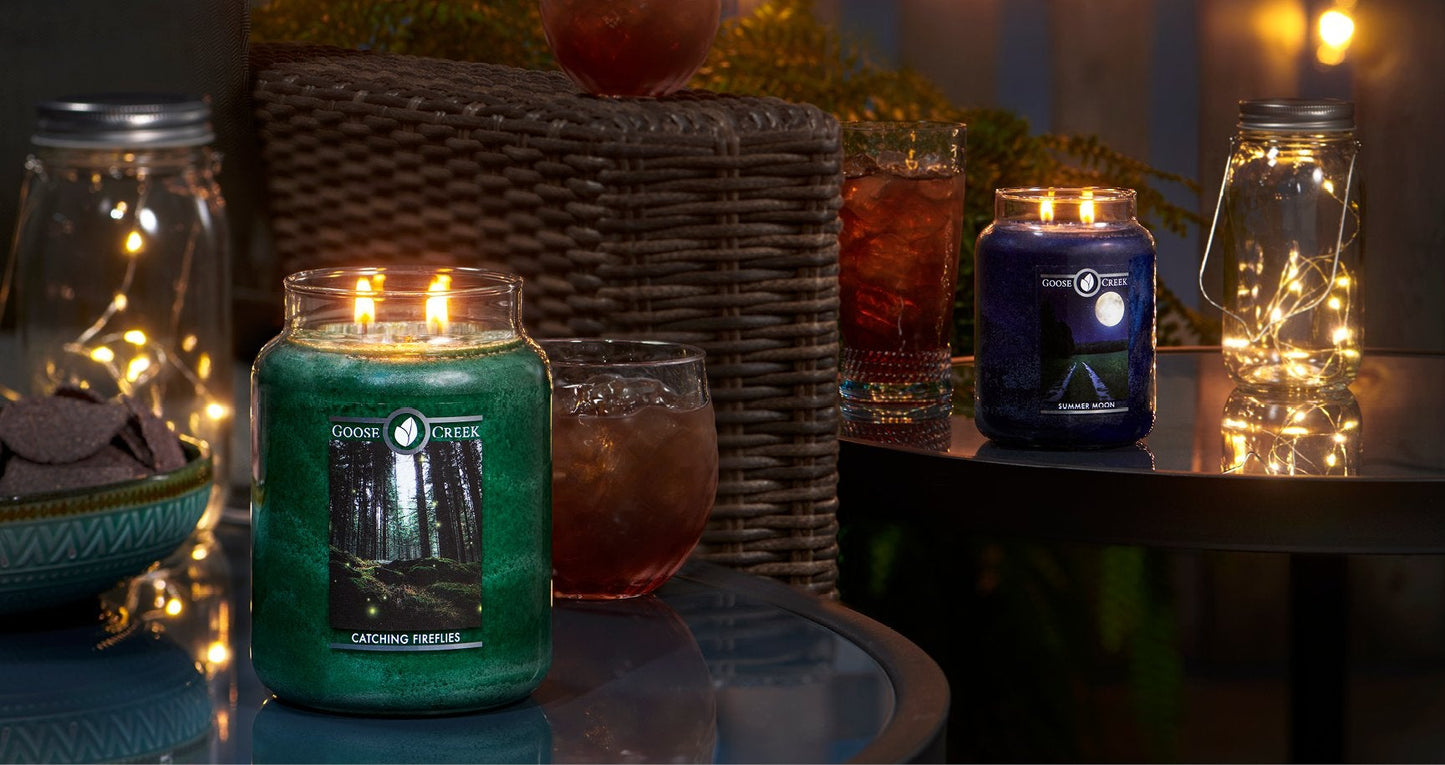 What to Do with Old Candle Jars

What to Do with Old Candle Jars: Crafts and More
You've burned every last drop of wax of that
dreamy, scented candle
— now what? If you're a serious candle-holic like us, there's a pretty good chance you've got a growing pile of these empty candle jars lying around the house. Often, they're made with sturdy, interesting or colored glass, maybe even in a unique shape, so it feels like a shame to throw them away. Luckily, we can help you figure out what to do with old glass candle jars so you can preserve them and display them in whole new ways!
To Reuse or Recycle?
If you don't feel like you have any good use for your stash of empty candle jars, you can certainly just recycle them, as long as your recycling program accepts glass items. Sadly, many municipal recycling programs no longer accept glass, so make sure your program does before relegating them to the recycling bin. If you've got a little bit of creative spirit and some DIY know-how, though, we say go the repurposing route and transform them into something special!

How to Clean Out Candle Jars

Before you do anything with your old candle jars, make sure that every last drop of the good stuff is melted away and you're left with a clean vessel for crafting. The simplest way to clean out old candle jars is to gently pour hot water over the jar until the excess wax melts away.
Many people also swear by the freezing method. All you have to do is stick your old candle jars in the freezer for a few hours and then use a butter knife or another strong tool to pop out the old, hardened wax. Don't forget to remove any old wick or metal pieces from inside the jar before you start crafting.

9 Fun Uses for Old Candle Jars
Turn Them Into Vases for Centerpieces — An ideal choice for taller glass candles without lids is to turn them into vessels to house your pretty, seasonal centerpieces. Tie them in ribbon, paint them with chalk paint or wrap them in twine for a clever way to display fresh buds or faux sprays.

Turn them Into Miniature Planters — Old candle jars can make excellent new homes for greenery whether you're planting an indoor herb garden or an elaborate, live centerpiece. You can get extra crafty by drilling small holes in the bottom to allow water to pass through.
Turn Them Into Desktop Lights — With solar-powered LEDs, you can basically turn any vessel into a sweet, light-up desk display, night light or decoration. String a few self-contained, LED twinkle lights in your jar for a dazzling light show.
Make DIY Snow Globes — Everyone loves a snow globe! If you're working with candle jars with lids — the best kinds for crafters, by the way — then you can turn your old collection into glittery globes for the kids.
Use Them as Storage Containers — Nothing serves as a more fitting and useful storage container than an empty candle with a lid. In fact, our large jar candles are among the very best candles-turned-storage-containers out there! Use them for literally anything — craft stuff, pet treats, cotton balls, makeup brushes, whatever.
Make Them Into New Candles — Nothing compares to the heavenly scent of a long-burning candle that's been expertly mixed for your enjoyment, but you may appreciate the craft of making your own candles too. Repurposing your old jars gives you a convenient place to pour your fun new scents.
Create Your Own Apothecaries — Body scrubs, creams, balms, you name it. Mix it up and package it in your small, empty candle jars and you've got yourself a pro-looking apothecary worthy of praise! These little mixes make perfect small gifts and favors for parties, weddings and showers too.


Turn Them Into Candy Jars — Everybody loves a candy jar! Fill yours with individually wrapped hard candies to set around the house or display them in groups for the candy buffet at your wedding or special event.
Turn Them Into Votive Jars — We already know you love candles, so why not use your old, empty jars as showcases for the small tea lights or votive candles you have lying around the house? Fill your jars with pebbles, sand, seashells or anything else that sparks the imagination, and top them off with scents to match.

The Lid's the Limit: Remember to Get Creative
Think of your empty candle jars as blank canvases. There's truly no wrong way to approach this craft, as long as you flex your creative muscles and enjoy the process. As you're expressing your artistic side, you're also contributing to a more sustainable environment and saving a few bucks as you do it. Happy crafting!