This store requires javascript to be enabled for some features to work correctly.
Eucalyptus & Lavender 100% Natural Essential Oil 15ml
Eucalyptus & Lavender Oil
100% Eucalyptus & Lavender

Not diluted. 100% pure natural essential oil. No fillers, no isolates, no carriers & no chemicals.

• No synthetic fragrances, no parabens, no GMOs, and no animal testing
• Plant-friendly, chemical-free pest controls, and fertilizers.
• 100% pure and natural to the last drop. Each bottle is pure, fresh, and traceable.
• All Goose Creek 100% Natural Essential Oils are sourced worldwide.
• Bottled in the USA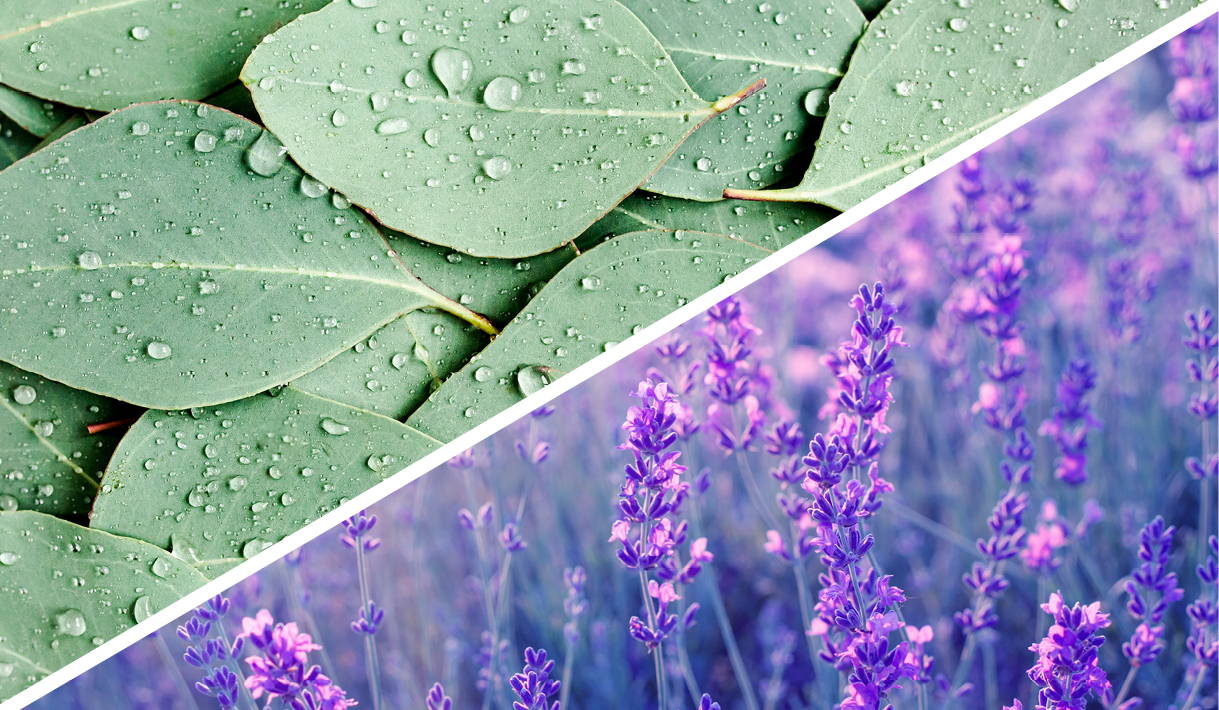 They say that opposites attract, and in the case of our lavender and eucalyptus essential oil blend, these 100% natural oils are a match made in aromatherapy heaven. The first oil we chose for this blend is eucalyptus natural oil. You may already be familiar with this oil's popular, camphoric fragrance because it's used in many scented products.
Eucalyptus oil is derived from the large leaves of the blue gum eucalyptus tree that is native to Australia. The leaves in their raw, natural state are a favorite food for koala bears. Somewhere along the way, humans learned that the leaves are also wonderful when distilled down into an oil. Eucalyptus essential oil benefits for aromatherapy can include feelings of elevated mood and spiritual rejuvenation.
Alternatively, lavender is known for being a reliable stress-reducing scent. Together, the essential oils of lavender and eucalyptus offer a wonderful balance of feel-good uplift and gentle calm. Enjoy the effect this pure, undiluted lavender and eucalyptus essential oil blend can have on your mood. Our essential oils contain no fillers, isolates, carriers or chemicals - just pure, plant-based oils.

Our Promise!
"We refuse to add any dilutants, isolates, carrier oils, or other chemicals to our oils. This means that our botanical fragrance oils have not been mixed with anything! Just 100% pure & natural!


About our oils:
100% natural & 100% pure! What does this mean to us? No dilutants, isolates, carrier oils, or other chemicals in our oils. Our botanical fragrance oils have not been mixed with anything! Our essential oils are 100% pure and natural and are the most premium available on the market! No synthetic fragrances, no parabens, no GMOs, and no animal testing with our oils!

Use Ideas:
• Great for diffusing in any high-quality diffuser
• Promotes relaxation and restores positive energy.
• Great for bedding, linens, pillows, or bottoms of feet at bedtime.
• Unique blend creates a soothing, stress-free experience when diffused.
• Great for adding to a spray bottle to freshen any room, mattress, car and more.
How to use:


Diffusion: Use 3-4 drops in any high-quality diffuser
Topical use: Apply 1-2 drops to non-sensitive areas. Dilute with a carrier oil to minimize any skin sensitivity. See additional precautions below.


Cautions
Possible skin sensitivity. Keep out of reach of children. If you are pregnant, nursing, or under a doctor's care, consult your physician. Avoid contact with eyes, inner ears, and sensitive areas.
Customer Reviews
Total 5 star reviews: 30
Total 4 star reviews: 0
Total 3 star reviews: 0
Total 2 star reviews: 0
Total 1 star reviews: 0
100%
would recommend this product
Eucalyptus and lavender essential

It smells great and is perfect for my diffuser. Perfect for when I have a headache or when I need to relax after a long day.

Love

So relaxing! Lovely smell.

Exactly Right

Eucalyptus Lavender essential oil from Goose Creek is exactly right. I have been searching for a eucalyptus lavender scent, and this Goose Creek version is just as expected based on my previous experience with this combination of scents. It's not that weird or fake scent I have smelled recently at another store. Thank you for bringing your customers an authentic scent!

Love !

I got a diffuser and essential oils. This one is one of my favorites!!
Reviews Loaded
Reviews Added